A few of our staff members had the opportunity to attend the Forty Second Annual State TAAP Conference on Addiction Studies August 11-13. Held at the Hyatt Regency Hill Country Resort and Spa in San Antonio, Texas, the conference brings together addiction professionals from across the state. It is a wonderful opportunity to network with other treatment centers and attend educational sessions. Attending this year's conference were Executive Director Steve Thomason, Admissions Director Josh Barnett, Discharge Coordinator Marlena Estrada and Business Development Specialist John Cottle.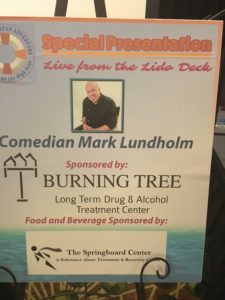 In addition to a booth showcasing our programs and services, Springboard had an opportunity this year to sponsor the food and beverages for a show featuring comedian & inspirational speaker Mark Lundholm.
Thank you to the Texas Association of Addiction Professionals. It was a wonderful event and we can't wait to see everyone again next year!